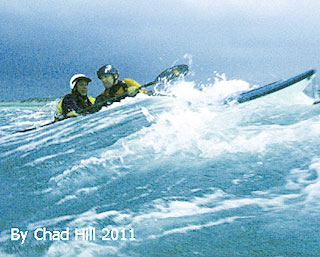 The ACA instructor certification workshops are widely recognized as one of the industry standards for those who wish to teach paddle sports. These programs are designed to develop an individual's on water skills, teaching ability, and leadership skills. Paddlers who are not interested in instructing will find these classes a valuable learning experience that helps bring their skills to the next level. To become an ACA certified instructor you must satisfactorily complete both an Instructor Development Workshop (IDW) and an Instructor Certification Exam (ICE). Within the Coastal (sea) Kayak program there are 5 levels of instructor certification.
level 1 - Intro to coastal kayaking instructor
level 2 - Essentials of coastal kayaking instructor
level 3- Basic coastal kayak instructor
level 4- Open water coastal kayak instructor
level 5 - Advanced open water coastal kayak instructor *(must be level 4 for 2 yrs prior)

At each level the number of skills required to become certified increases as does the required training/ testing time and the sea conditions for the training. At all levels of certification the skills you demonstrate are expected to be top notch. Reading the syllabus for classes at each level on the ACA website will help you to determine what level of certification best fits your interests.

Certification Level (IDW)
Level 1 & 2 -  2 days
Level 3 - 3 days
Level 4 - 4 days
Level 5 -  1 day
Endorsements - 1 day*

Certification Level (ICE)
Level 1 & 2 -  2 days
Level 3 - 2-3 days
Level 4 - 3 days
Level 5 -  1 day
Endorsements - 1 day*

If you are registered for an upcoming instructor workshop the some of the required materials maybe downloaded. CPR & First Aid Requirement | Eligibility Criteria | Instructional best practices | Instructor Criteria.

Instructor Endorsements
Certified instructors can recieve endorsments that allow them to teach additional ACA classes.
We offer 3 endorsements:
Rolling- The rolling endorsement allows level 3 paddlers to teach the basic sweep roll and C to C roll to students.The rolling endosement is usually a one day class.
Traditional skills- This endosement allow instructors that are level 3 and above to teach the traditional skills class. This class focuses on Inuit paddles, boats, history, and skills. A lot of emphasis is placed on Greenland competition rolls in the class. The endorsement is 2 days long and is set up like a short IDW/ICE.
Kayak Camping- This endorsement is open to instructors level 2 and above who would like to teach the expeditioning skills in the ACA kayak camping class. This class may be set up as 1 day workshop or a multi day expedition. Often this class will be packaged with a LNT awareness class or LNT trainers workshop.
Trip Leaders Endorsement- description coming soon.